Are you a floral entrepreneur who...
Desires to learn foundational principles of design to improve your process?
Needs help creating a cohesive design to attract your ideal client?

Wants to learn the proper mechanics for luxury design?

Wants to learn how to create sustainable designs that are foamless?

Is struggling to figure out how grow and design with locally grown flowers?

Wants to hone in on your creative process when designing florals?

Dreams of sharpening your design techniques and skills that will increase your workflow?
This online summit is for you!
WHAT IS FLEURSOCIETY ONLINE SUMMIT?
Since starting Posh Peony in 2005, I've been able to grow and scale my floral business over the years. With very little support and resources, it was not always an easy road and I often found myself frustrated and lost. I wanted to create a conference that would serve as the catalyst for savvy marketers, businesses, and floral entrepreneurs around the world to easily build the strategies, relationships, and expertise they need to implement strategies to rapidly accelerate business growth and sustainability.
This online summit will bring together some innovative business owners, industry thought leaders, and educators together for a two-day event that will deliver 10 actionable live streaming online sessions that will support, empower, and build community in the floral industry.
Can't attend LIVE? Don't worry, you will get LIFETIME access to the recordings!
The Fleursociety Online Summit was such a brilliant idea! It was like the ultimate business slumber party! It was so nice to learn from the best in the business from the comfort of my home and in my pajamas.
-Teresa Eoff, Figure Eight Events
The Summit provided me with access to the floral community and such a diverse range of educational topics. I felt like I got many of the benefits of a traditional conference without the burden of having to travel. The format was also great because I didn't have to take time off and I was able to access the resources after the Summit ended.
-Casey Neeley, Stems & Sweets LLC
EDUCATORS
Engage with floral industry thought leaders who will transform the way you think about design strategy through mechanics, technique, and principles of design.
Oh Flora Studio
Tanya has quickly built her career and brand into a well recognized, respected and in demand florist, designer & educator within a competitive industry. Encompassing a great love of travel, hosting, dreamy design and nature along with her high regard for professional service. Her designs often stem from her above passions along with her love for color and an abundance of delicate textures. She loves using fruits, branches and other unexpected materials to keeps things interesting!
Rhiannon Bosse
Rhiannon is a believer that celebrating is the heartbeat of our lives. Selected as a VOGUE Magazine and BRIDES Magazine top world wedding planner for her company's international work in the wedding and event industry, she's also an editorial stylist, floral designer, and lifestyle expert. She brings more than a decade of design and planning experience to the table, along with a passion for blending intentional and conversational storytelling with carefully curated visuals. Above all else she's a wife, adventurous mother of two boys, always in pursuit of building a life-giving home, and a passionate advocate for sharing stories - and overseeing milestones - that transform lives.
Amy Nicole Floral
Amy Balsters is a floral designer & educator with vast industry experience in design, retail and special events. She is a formally trained florist graduating in 2003 from the accredited, two year Golden West College Floral Design and Shop Management Program. She has had a successful freelance design career working for some of the nations top florists across California and throughout the country while running her floral design company, Amy Nicole Floral since 2012.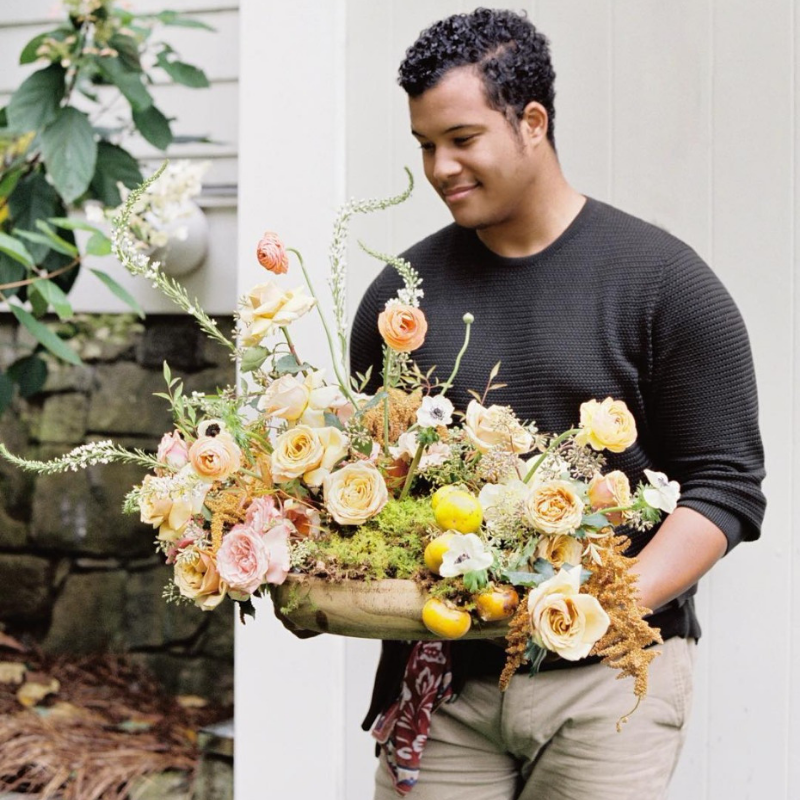 Shean Strong Designs
Shean Strong is a floral designer, but more importantly, he is a true romantic who still believes in beautiful ideas, moments, and designs. Flowers, with their color stories, subtle fragrances, and shapes change every environment. The right flowers create a mood that invokes feelings of sensuality and wonderment. Shean seamlessly pairs those natural elements with timeless designs and a detailed eye.With the right styling, flowers can't help but exude effortless refinement.
Subtle European influences married with romantic textures help to cultivate a brand he humbly calls his own.
Oak and the Owl
Nancy has a background in fine art (painting), interior design, and business. She previously worked for a flower shop where she did events, as well as day to day retail. This is where her love of flowers came from! Her experience in has allowed her to pursue a fulfilling passion in flowers and design. She is also a floral farmer where she grows and sells beautiful garden roses for her company Ella Rose Farm.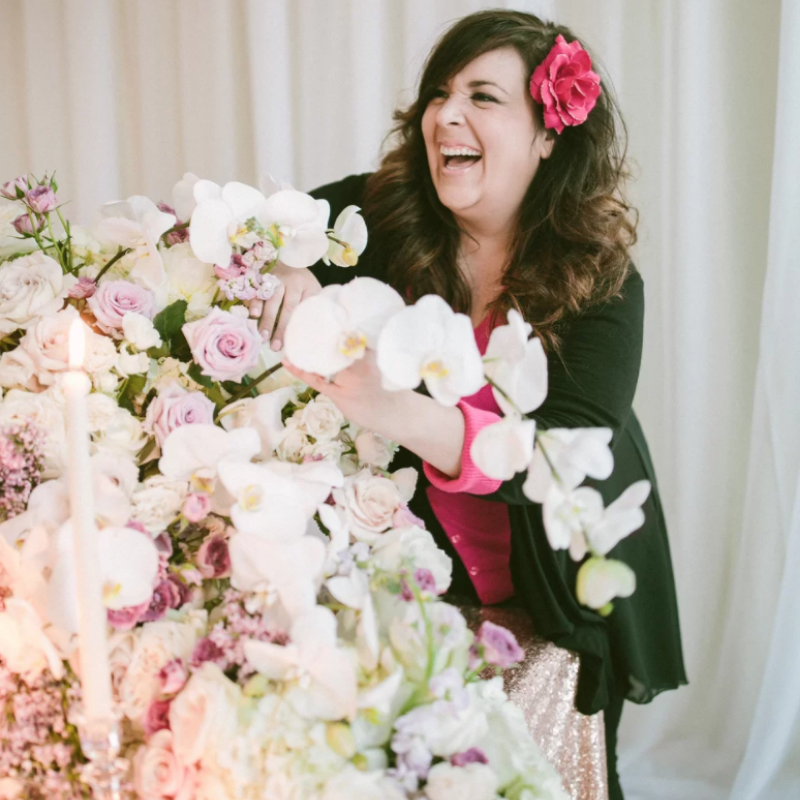 Cece Designs
Cece is the self-proclaimed queen of pink, an award-winning and renowned floral designer, and third generation entrepreneur. Her company, CeCe Designs, has enjoyed features with Style Me Pretty, Magnolia Rouge, among others. She also runs CeCe Décor which specializes in rentals and Create, a luxury collaborative workspace that brings together creatives in the wedding industry. A mentor and speaker, CeCe has been invited to share her expertise on the national stage at such prolific conferences as Wedding MBA, Inspire Retreat and a number of local floral associations throughout the nation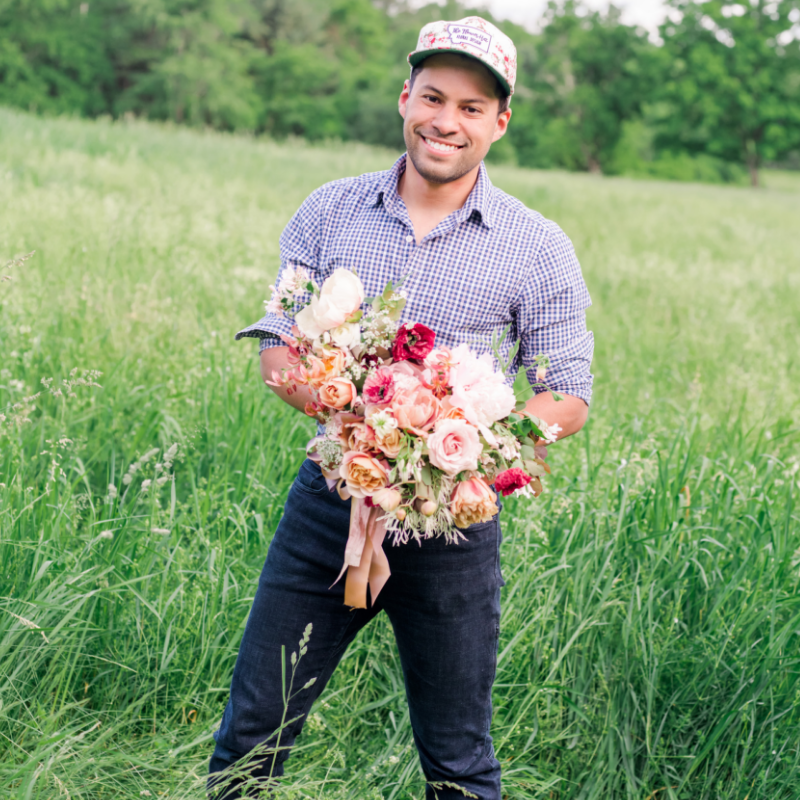 The Flower Hat
Julio is the owner of The Flower Hat, a Floral Design Studio located in Bozeman, MT. Julio believes in sustainability in the flower industry. Because of that, he grows most of the flowers he uses in floral designs during the short yet busy wedding season. His business also sells the oh-so-coveted Dahlia Tubers in the Winter and he teaches On-Farm Design and Farming Workshops in the Summer.
Team Flower
Kelly's life with flowers—and her joy of teaching other professionals—naturally stems from her time working as a corporate event planner after she graduated from college, studying fashion, interior design, event planning, entrepreneurship, and education. Before you could find her empowering professionals in the floral industry full-time, Kelly started a tiny weekly flower subscription that she grew into her own successful boutique floral design business, Philosophy Flowers.
Posh Peony
Cristina is owner and Chief Creative Officer at Posh Peony and has always had a love and passion for all things floral and design. Over the years, she has built her business from the ground up with no formal training or education. She has grown and scaled her business which has allowed her to pursue her love of teaching in the event industry. Today, she continues to provides full-service design and educational workshops at a local and international level. Through Fleursociety, she is able to empower floral designers and entrepreneurs on how to build better businesses.
Sweet Root Village
Sweet Root Village is an event floral design studio based in Alexandria, Virginia owned by Lauren Anderson and Rachel Bridgwood. Sweet Root is known for large installations, sharing openly about floral business, and creating a family friendly work environment for their team. Over the past nine years, they have grown to an in-house team of six who lead over 80 weddings and events a year, and have been seen in Martha Stewart, Modern Luxury, Once Wed, and many other publications.
PROGRAM
Fleursociety Online Summit will be an immersive and invaluable experience taking place over two action-packed days.
Each day will be made up of engaging presentations from some of the top floral designers and educators. The conference is designed to take you on a step-by-step journey through every conversion point in business and design building — from principles of design, to proper mechanics, to color theory, and large installations, that will attract your ideal client, sharpen your design technique and skills.
Our LIVE sessions will run on August 18th from 10:00am - 4:00pm PST and August 19th from 10:00am - 4:00pm PST. Each educator session will include educational content in the form of presentation or video demo and LIVE Q+A session to address all your questions.
Day 1: Sunday, August 18th
KELLY PERRY | Principles of Design
Learn how to use principles of design to guide the choices you make and inspire your creativity when designing. Kelly will share about balance, movement, color, texture, focal points, rule of thirds, symmetry, and so much more! You'll see step-by-step implementation — the mixing and marrying of these powerful concepts.
AMY BALSTERS | Foam Free Mechanics and Design
Learn about why the foam free movement is making waves in the floral industry and be encouraged to think outside the box regarding mechanics and design without the use of floral foam. Watch Amy demonstrate these ideas along with her mechanics, techniques and design approach applied to a garden inspired staircase design.


JULIO FREITAS | Flower Farming: Designing with Locally Grown Flowers
Learn how to design using locally grown flowers that you can cultivate or source yourself. Julio will discuss 5 varieties of flowers he must have every summer. These easy to grow flowers can be used in a myriad of color combinations, that will surely elevate your designs.
NANCY TEASLEY | Lush Garden Style Altar Design with Movement & Depth
Learn how to build out your altar with the correct mechanics to easily design your florals with a garden style aesthetic. Nancy will demonstrate how to place flowers in a layering effect to create depth and movement, so there is not a heavy and static end design. Get insight on how to budget and plan your market list to not overbuy, yet have enough in case something goes awry, like intense heat or potential failed product.
CRISTINA BARRAGAN | Luxury Elevated Designs
Learn how to design grand lush centerpieces perfect for any luxury wedding/event! Cristina will walk you through from start to finish to how to properly order, price, build, and handle sustainable pieces with proper mechanics and tips to ensure flowers are secure and durable to last throughout the day and not cause you any stress.
Day 2: Monday, August 19th
CECE TODD | Luxury Tablescape Design
Learn how to create luxury tabletops using all the fixings! Cece will show you how to design and curate a lavish table design; from florals, to table settings, to rentals. She will go over her process start to finish so you can start offering full service design to elevate your brand and increase your profits.
RHIANNON BOSSE | An Approach to Streamlined & Romantic Bouquet Design
Learn how to easily and confidently design timelessly beautiful hand-held bouquets that are streamlined and romantic in aesthetic. Rhiannon will show you how to efficiently build bouquet recipes, design a bouquet in one hand, and focus on one focal point to avoid overly large (and expensive!) finished products your client will simply adore.
SHEAN STRONG | Creating Impactful Arrangements with Open Form Design
Learn how to create open form designs that are beautiful and unique. Often times we get stuck on the idea that centerpieces have to have this "american standard" when it comes to design. Shean will show you how to create a centerpiece that is unique, lush, and anything but standard. Take away tips on design, color theory, shape, flowers selection, foraged items, and so much more!
SWEET ROOT VILLAGE | Free-form Focal Installation
Learn how create a free-form installation from start to finish. Lauren and Rachel will walk you through how to design and create including mechanics, quick tips, how to recipe, and more! Watch as they transform a ceremony space into a freeform floral installation that is versatile and could be used for a ceremony, escort display, and applied to several scenarios.
TANYA SHAW | Foam Free Low Table Florals & Garlands
Learn how to create a foam free table centerpiece that is signature to Oh Flora! Tanya will how you how to create using a low sided, narrow vessel and will present how to arrange an assortment of seasonal flowers, foliage and airy textures to create a long dreamy garland. The centerpiece will be foam free, using chicken wire and tape and is a great substitute to replace "low foam trays or foam cages" for a "no vessel" low look.
"One word: Extraordinary"
I'm studio based and I have been searching for a network of floral designers for a couple of years now and Cristina's vision has made my network "Blossom". Can not wait until the next online summit and reading the continued facebook postings! Thank you Cristina for your continued countless hours and creative vision behind all of this!
-Mary Pappas, Mary Martha's Floral Design
"Invaluable insight and resources"
As a new business owner, I'm so happy I decided to take the leap and invest in myself and my business education! The Fleursociety Online Summit has given me invaluable insight and resources to start my business off right and help me build a strong foundation. I am now light years ahead of where I thought I would ever be! I cannot thank Cristina and all the amazing speakers enough for the amazing classes and for sharing their wealth of knowledge.
-Leah Hertzel, Designs by LRH
HOW MUCH DOES IT COST?
For only $197, you will get 10 presentations of actionable live content. That's $19.70 per educator!! How many of us can honestly say that we spend that much each week on coffee or fast food? Consider this 10 weeks of workshops, intensives, courses, and any other educational investment out there for your business development!
Each session will be streamed on our webinar platform that is perfectly designed to engage all participants in learning and community building! You will have LIFETIME access too each replay after the event along with all the resources and virtual swag bag goodies included!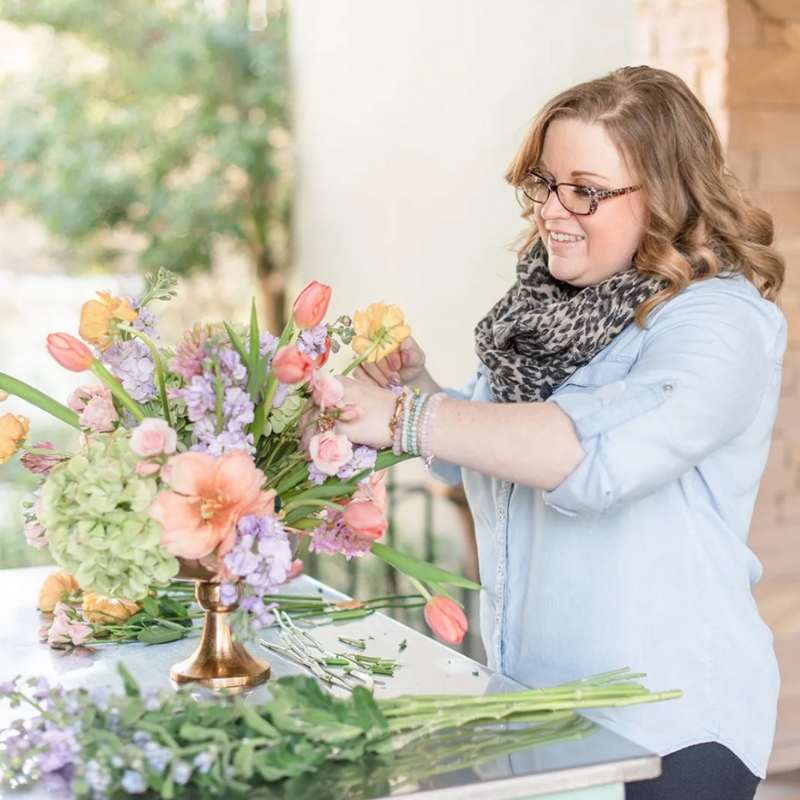 I took away actionable nuggets of information that I was able to implement day ONE!! I can't wait to dive in, watch again, and really get my systems and work life balance under control. These speakers really understand the day to day hustle and issues we face as floralpreneurs, and everything they shared was pure gold!!!
-Kristen Brown, Vintage Soul Floral Design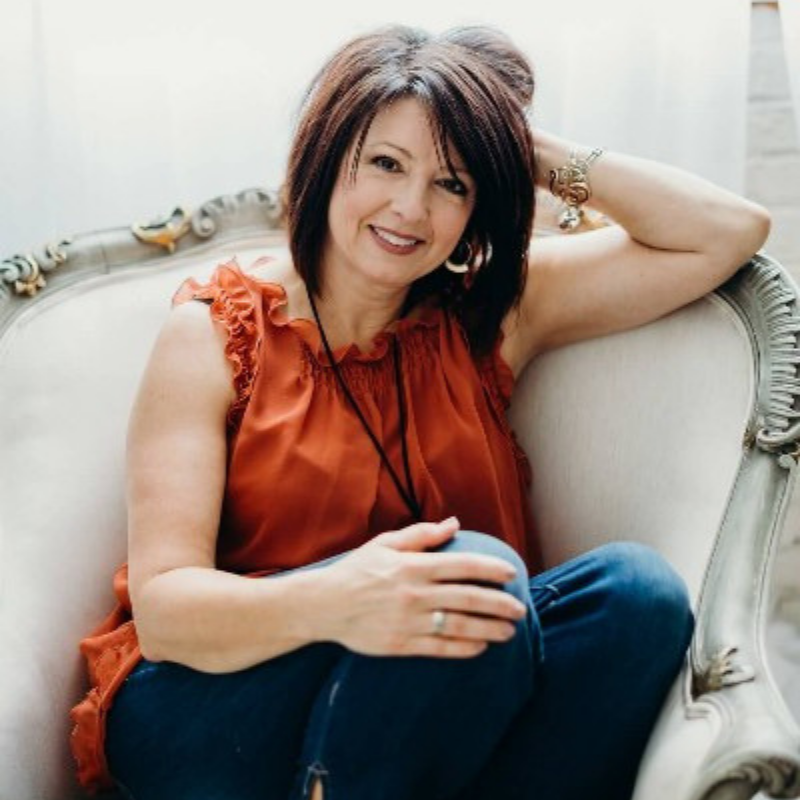 "Packed full of useful information!"
The online summit was a very good experience! Lots of value for the investment. I loved the depth of the information the educators shared. It was wonderful to be able to curl up with my laptop and a cup of coffee on my sofa. It was well executed and packed full of useful information.
-Tracie Sells, Heirloom Floral
HOW WILL THIS ALL WORK?
Tickets for the Live Summit are available from July 29th through August 19th. By purchasing your ticket, you are reserving your seat for the live sessions and securing your access to the recordings after the event.
Once your order is complete, you will get instant access to the online platform that includes links to each password protected webinar to get registered. Additionally, you will have get some bonus resources from each educator and exclusive virtual swag bag goodies!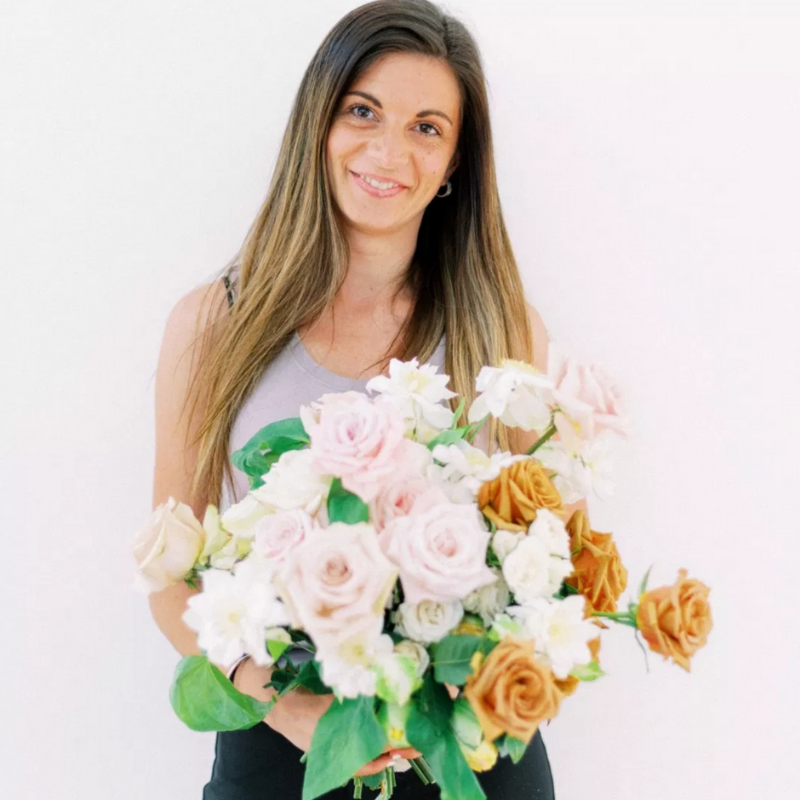 "I have learned so much!"
I loved that everyone shared so much information that could help the novices, and the feeling was so real. Everyone was so open to answer all the questions! I have learned so much and I continue to learn so much from Fleursociety. I am happy to be part of the group! Thank you!
-Luci Taulea, Luci Floral Design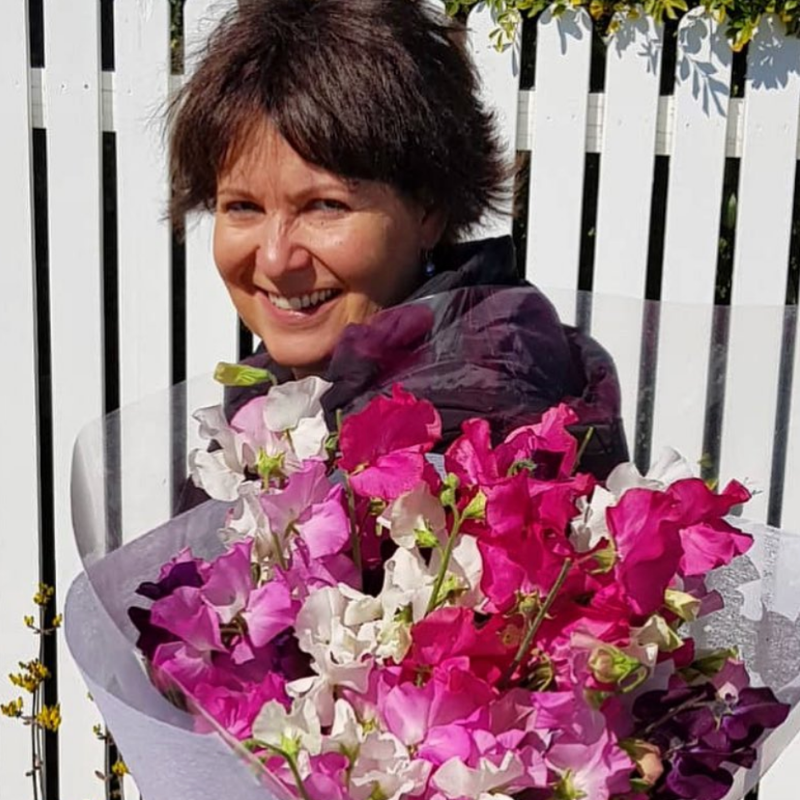 "Amazing community and educators!"
It's been fantastic to participate over the last three summits. Cristina is so authentic, generous, smart, organized and inspiring - and although I've been in this game for a long time (and sometimes thinking I pretty much know what I need to know), I always leave the summit knowing more!
-Debbie Weiss, Dragonfly Floral Design

"I can't wait for the next summit!"
I'm so grateful to be apart FLEURSOCIETY ONLINE SUMMIT for the second time. This online summit concept has been amazing and has allowed me to really dive into the floral world. As much as I would love to attend in person conferences/workshops it's both financially hard and time consuming. I'm still soaking in all of the content and learning everything I possibly can. Thank goodness for the lifetime replays!
-Courtney Kern, Events Beyond
Questions?
Email us at: hello@fleursociety.com and we will get back to you shortly!
WATCH PAST SUMMIT REPLAYS!